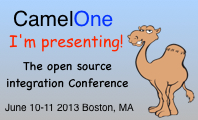 For the past couple of years, FuseSource has held CamelOne, an annual conference specifically geared toward the open-source messaging and integration communities especially those at Apache around the Camel, ActiveMQ, ServiceMix, and CXF projects. It's a great place to see what cool new technology the Fuse folks are cranking out, and also meet other Fuse technology users and see what they're doing!
With the recent (Sept 2012) acquisition of FuseSource by Red Hat, some have been wondering whether the conference still lives on... worry no further... the CamelOne conference will still be held!!! Last year's event in Boston was super successful, so we will be doing it there again.
I will be giving a presentation this year on ActiveMQ Internals. So if you've ever been interested to take a peak into the broker core for the purposes of tweaking configuration or contributing back to the community, plan to be in attendance.
Of course no CamelOne is complete without meeting the rockstars that have been powering the Fuse technologies for a while, including Rob Davies, James Strachan, Hiram Chirino, Claus Ibsen, Guillaume Nodet, and others from the ActiveMQ, Camel, CXF, and ServiceMix communities!!
Registration for the event is still at early bird pricing ($150 till May 15th!), so register soon!
---